«Umka bear» сhocolate with milk filling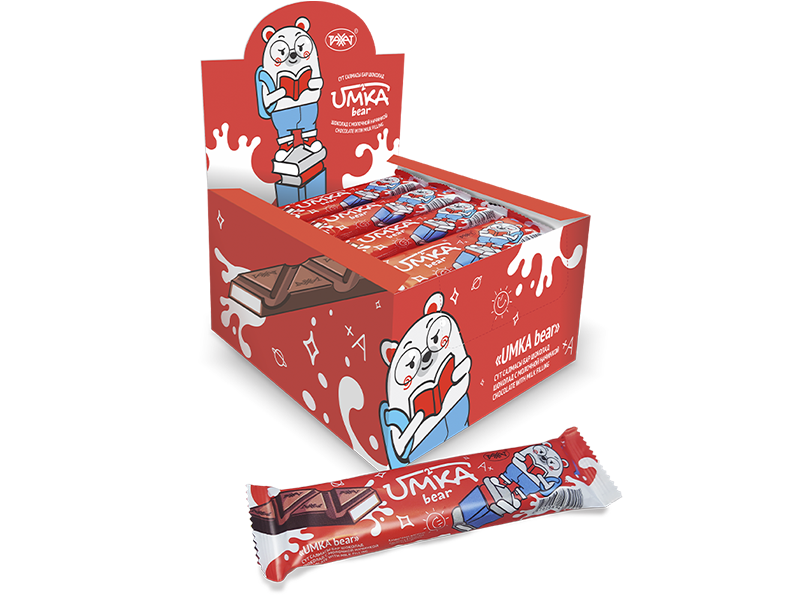 «Umka bear» milk chocolate with tender milk cream filling is for the smallest sweet tooth developed by LOTTE RAKHAT JSC.
UMKA Bear is the bear who loves to learn and is a very smart bear: he will show you exactly where Zanzibar is and will tell you the Fibonacci number. Because he eats delicious chocolate which helps his cerebration!
№10159
Food value (average number) 100g of product:
Energy value 573 kcal
Proteins 5,6g
Fats 39,4g
Carbohydrates 51,5g
Ingredients: sugar, whole milk dried, vegetable fats (palm oil), cocoa oil, cocoa mass, butterfat, emulsifier – soy lecithin; common salt, natural flavouring, extract of natural vanilla is intensifier of taste and smell; antioxidant – NovaSOL COF (ascorbic acid, alpha-Tocopherol). The total cocoa product content is not less than 18%. May contain traces of peanuts, nuts.
Storage temperature is (8-23)°С, relative air humidity should not exceed 75%.
Shelf life: 6 months