"Almaty" set of chocolate sweets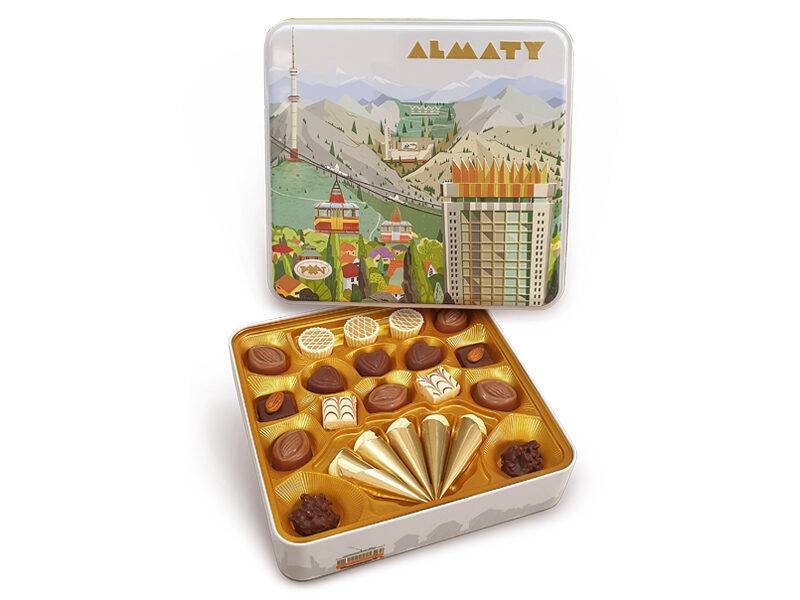 Assorted chocolate candies in premium tin packages is a great gift for yourself, friends and relatives. The set includes 7 types of sweets:
A sweet consisting of two layers: milky chocolate layer with granulated almonds and praline layer;
Sweets in the form of basket made of white chocolate with a praline filling based on almond powder;
A sweet in the form of "arrow" made of white chocolate with a truffle filling and strawberry vanilla flavor;
Sweets in the form of "heart" with chocolate and nut filling and vanilla flavor;
Sweets made of dark chocolate with pieces of granulated almonds;
Sweets with praline filling between waffles layers, glazed by chocolate coating, with whole almond kernel;
A sweet made of milky chocolate in the form of nut with white chocolate filling and whole almond kernel.
№1822
Nutritive value (average) in 100 g of product:
Energy value 543 kcal
Proteins 5,5g
Fat 36,2g
Carbohydrates 50,6 g
Ingredients: sugar, cocoa oil, kernel of ground almond/cashew, vegetable fats (palm oil, soya oil, rape oil, shea oil), cocoa mass, whole milk dried, whey solids, kernel of crushed almond, whole almond kernel, common salt, fortified wheat flour, ethyl alcohol, cocoa powder, emulsifiers: soy lecithin, Е476, Е492; butterfat, cognac, corn starch, egg powder, aerating agents: baking soda, ammonium carbonate; glazing agents: Capol 425M (glazing agent – shellac; coconut oil, ethanol), Capol 254N (thickener – gum-arabic; sucrose, glucose syrup, palm oil, food additive – sorbic acid; antioxidant – citric acid); antioxidant – NovaSOL COF (ascorbic acid, alpha-tocopherol); aromatizers are identical to natural, intensifiers of taste and smell: extract of natural vanilla, vanillin; enzyme (protease).
Shelf life: 4 months