«Sary-Arka со сгущённым молоком»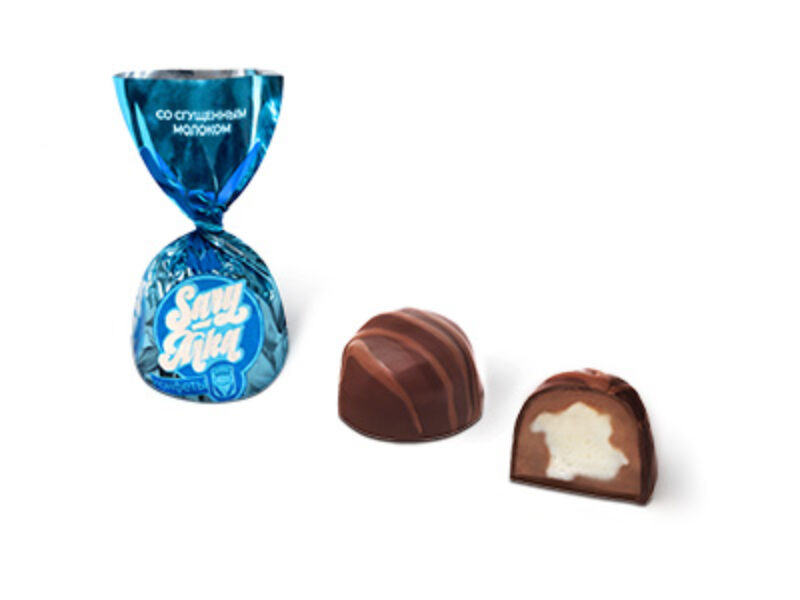 Chocolate glazed candy. Filling made of milk fondant with cognac covered with milk fondant with caramel-vanilla flavouring, with cocoa-powder and alcohol.
№14189
Nutritional value (average values) per 100g of product:
Energy value (energy content) 1629kJ/389kcal
Proteins 2.5g
Fats 9,4g
Carbohydrates 77.6g
Ingredients: sugar, condensed milk with sugar, syrup, cocoa mass, cocoa butter, vegetable fats (palm oil), cocoa powder, sorbitol as water-retaining agent; ethyl alcohol, dried whole milk, dried whey, emulsifiers: soy lecithin, E476, E492; salt, cognac, stabiliser - invertase; antioxidant - NovaSOL COF (ascorbic acid, alpha-tocopherol); flavouring agents - identical to natural; flavour intensifier - natural vanilla extract.
Store at temperature (8-24) °C, max. 75% relative humidity.
Shelf life: 8 months.