Chill&Deal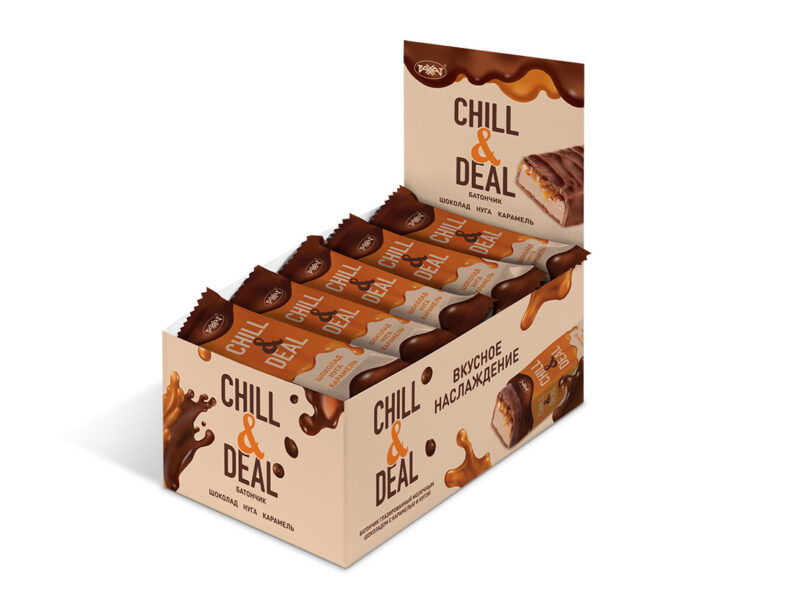 A tasty bar made of two layers: a layer of nougat and caramel embodies tranquility and enjoyment, and a coating of milk chocolate – energy and inspiration. Allow yourself a delicious break during the day to recharge your emotions and prepare for new achievements.
№14452
Nutritional value (average values) per 100g of product:
Energy value 1894 kJ
Caloric content 452 kcal
Protein 3.7g
Fats 19.5g
Carbohydrates 65.4g
Ingredients: sugar, molasses, condensed milk with sugar, vegetable fats (palm oil, soya-bean oil, shea butter), cocoa butter, whole milk powder, cocoa mass, moisture-retaining agents: sorbitol, E422; cocoa powder, dry egg white, dark malt extract, table salt, emulsifiers: soy lecithin, E471; flavors: natural (maltodextrin, milk protein, butter extract, cream extract, natural flavoring substances, lactose); identical to natural; flavor and aroma enhancer - vanillin; antioxidant - NovaSOL COF (ascorbic acid, alpha-Tocopherol). The total content of cocoa products in milk chocolate, not less than 37%. May contain traces of peanuts.
Store at a temperature of (8-24) ° C, relative humidity of not more than 75%.
Term of storage: 9 months.