26.08.2010
"Best goods of Kazakhstan 2010"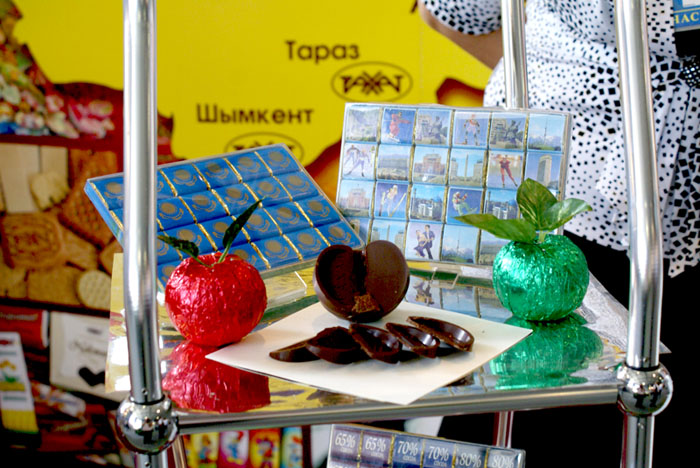 The "Best goods of Kazakhstan 2010" regional competition was held by Municipal authority of Almaty (Akimat) under the republican competition, which was organized by Ministry of industry and innovative technologies for the fifth time. This anniversary initiated the organization of competition arrangements with the particular carefulness and attention to the consumer interests.
On the 26th and 27th of August the exhibition of products of participants and summing-up took place in the pavilion of Atakent exhibition complex. "Rakhat" JSC for the first time presented some product innovations, which are belong to representative category of products, along with the confectioneries, which are popular among the people of republic. Well-known "Kazakhstanskiy" chocolate in the bars of 6gr. found the series of labels with design of images presenting cultural and architectural sights of Almaty. People of Almaty saw the pictures of different kinds of winter sports on the other series of labels, thus taking the emotional support to their actions in preparing and holding VII Winter Asian Games 2011. The "Best goods of Kazakhstan …
Another innovation from "RAKHAT" JSC became delicate chocolate, enclosing two symbols of south capital of Kazakhstan. Chocolate is made in the form of alluring apple with the sprig and leaves. Ruddy red and appetizing green apples were made of foil of different colors. Unfolded chocolate apple is divided into 18 parts, which in a short time hide in the mouth of connoisseur of high-quality chocolate.
By the quality factors "RAKHAT" JSC was awarded with "Best food products" title in the similar nomination of competition.
---