06.02.2015
ASTRAIA Certification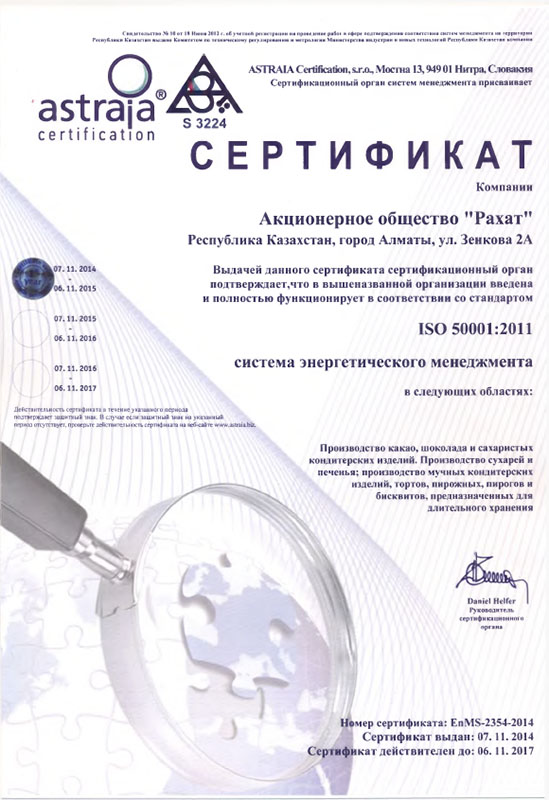 In order to improve the energy efficiency at the "Rakhat" JSC in 2014 the energy management system ISO 50001: 2011 was developed and certified by Certification Body ASTRAIA Certification, s.r.0., Bridge 13,949 01 Nitra, Slovakia issued a certificate № EnMS-2354-2014 valid until 06.11. 2017.
Implementation of the system allows the company to perform the following tasks:
reducing energy consumption by enterprise an average of 7-13% by eliminating of identified irrational energy losses and implementation of operational energy saving potential; implement systems of calculation and planning norms of energy consumption in the enterprise; the development of an energy performance certificate of the enterprise; regulation of emissions of pollutants into the atmosphere from energy activities and improve the microclimate.
For effective and efficient use of water for technological and drinking needs in the enterprise constantly improved water management system: installation of water meter; water recycling system; control of water consumption and detergent.
The utilization of waste production and consumption is one of the important directions to move the "green" economy, as well as their use as a secondary product.
Technology confectionery production at the "Rakhat" JSC is almost non-waste: waste pods of cocoa beans in the manufacture of chocolates used in agriculture and for additives in animal feed; solid organic waste is used on the farm for fattening animals; used packaging, is subject to return and processing.
Disposal of municipal solid waste shall be in accordance with applicable normative legal documents on a contractual basis. Hazardous wastes generated from production and consumption of support shops: mercury-containing lamps; waste oils; waste batteries are sent for recycling to specialized enterprises that have a license for this type of work.
One of the priority tasks in environmental protection at the "Rakhat" JSC is restriction of air pollution.
To achieve this purpose at the "Rakhat" JSC is making mitigation arrangements of pollution emissions: the use of equipment with great coefficient of efficiency, the technical parameters which correspond to the current level of development of industrial science and technology; constantly increasing the degree of production automation, which provides rhythm of work shops, strictly maintain the required parameters of technologically processes.
Special attention is giving to the choice of raw and other materials: the use of ecologically clean materials that satisfied the recommendations of domestic and foreign nutritionists, environmentalists, different areas of medicine.
Permanent laboratory control of quality of raw materials and all stages of production, constant improvement technologically processes provides high microbiological purity of products.
An industrial environmental monitoring and annual monitoring of the environmental condition is holding quarterly at the "Rakhat" JSC.
---