Desire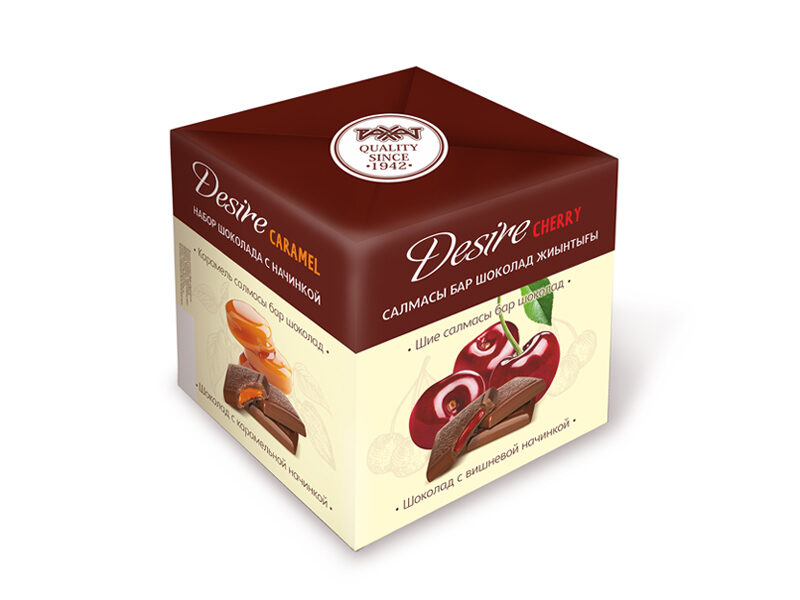 A new assortment of chocolate with bright fillings which will not leave indifferent any lover of sweets. The set includes four bright rich tastes- noble cherry, sunny orange, spicy caramel and fragrant raspberries. Great gift for any sweet tooth!
№1839
Food value (average number) 100g of product:
Energy value 535 kcal
Proteins 5,8g
Fat 36g
Carbohydrates 45,1g
Ingredients: sugar, crude cocoa, cocoa oil, caramel paste (inverted sugar syrup, glucose syrup, coconut oil, skim milk, whole milk powder, butter, emulsifier E322, acidity regulators: Е170, Е524), cocoa powder, syrup, water-retainign agent-sorbitol; powdered milk whey, vegetable fats (palm oil, soya oil, rape oil, shea oil), whole milk powder, emulsifiers: soya lecithin, Е476; acidity regulator-citric acid; gelling agent-pectin; common salt, stabilizers: sodium citrate, invertase; flavors-identical to natural; antioxidant-NovaSOL CoF (ascorbic acid, alpha-Tocopherol); flavor and aroma intensifiers: natural vanilla extract; orange extract; raspberry extract; cherry extract. Total content of cocoa products is not less than 48%.
Shelf life: 6 months